Certified for Microsoft Dynamics NAV
17.06.2015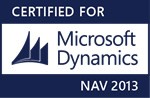 Select Solutions E-Commerce B2B attains Certified for Microsoft Dynamics, the highest accreditation that Microsoft grants to the ISV solutions extending Microsoft Dynamics.
There are stringent requirements to be met in order to attain Certified for Microsoft Dynamics, quality technical implementation and proven compatibility with Microsoft Dynamics being just the technical part of the list. During certification, existing customer and reselling partner references are evaluated, and the ISV's competencies and experience in Microsoft Partner Network are of the utmost importance as well, not to forget the proven capability of professional implementations and systematical support.
The goal is the confidence. Customer confidence of the quality, about the solution having been tested and approved both by Microsoft and current customers. Reselling partner confidence of the ultimate customer satisfaction while relying on a partner committed to long-term success. And finally, the confidence of our own, that we are on the right track, the track approved by Microsoft.
With the certification in place, we are proud to line up E-Commerce B2B among the leading Dynamics-integrated e-commerce solutions in the market worldwide. All thanks to the talented and committed team of Select Solutions, as well as each and every current customer and partner of ours.
Why Us
E-Commerce for Efficiency
Ideal for B2B trade in manufacturing, distribution, and wholesale business. Fast and functional no-frills solution to boost the efficiency of your sales process. Easily customizable for your business.
Fully Integrated
All product, pricing and other data maintained in Microsoft Dynamics NAV only. No duplicate data entry or maintenance. No additional systems to learn.
Instant and Flexible
Save the precious time with a pluggable ISV solution - add e-commerce to your Dynamics NAV in a matter of few days. Unbeatable flexibility with SaaS-based pricing.