E-Commerce for NAV v3.00 is here!
09.09.2013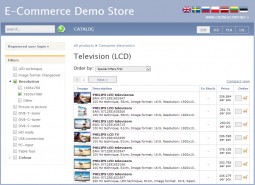 We've not been sleeping lately. In fact, it's quite the opposite, as we've been preparing a new major release of E-Commerce B2B/B2C solution for Microsoft Dynamics NAV. Meet the version 3.00.
With v3.00, we have moved from a pure login-only B2B system to a solution that plays nicely in both B2B (supply chain) and B2C (retail) scenarios.
New features include
Rapid Search Technology
Find products by any aspect - codes, description, features, and more. Whatever your catalog size, results are delivered instantly. To support search by word forms and keywords in various sequences, full-text dictionaries are used, which is particularly important for non-English installations.
Built-in Content Management
Add custom content to the web store using the built in HTML editor. Let your customers know of promotions, guide them to external resources by adding links, add banners, enhance the presentation of your product categories and even particular products.
Product Filtering and Sorting
Once in a product list, you can filter products by features (e.g. size, color), stock availability, and manufacturer. Sort products by name, price, and even numeric features like length, power, or capacity.
More Localized
We supporting English, Swedish, Russian, Polish, Latvian, Lithuanian, and Estonian versions out of the box. Multi-language sites are supported, and languages can be seamlessly switched on any page.
B2C Checkout
When in B2C mode, choose the shipping method and region, pay with your credit card online, and create your buyer's account on the fly.
Version 3.00 incorporates new screen layouts, with product list carrying most of the improvements. Pictures are now displayed in the list, and you can open each product in a 'card' view, which is particularly great for SEO, landing pages and direct links.
There are numerous improvements under the hood, like full support for multi-currency environments and customer invoice discounts, as well as improved back-end (Dynamics NAV) functionality for managing product categories and leveraging the new features of Dynamics NAV 2013.
As usual, all the data is managed in Microsoft Dynamics NAV, and the E-Commerce Add-on provides a seamless integration with your e-commerce portal, giving you real-time stock levels and customer-specific pricing in your e-commerce site. A comprehensive, feature-rich, cloud-ready and partner-friendly solution.
Why Us
E-Commerce for Efficiency
Ideal for B2B trade in manufacturing, distribution, and wholesale business. Fast and functional no-frills solution to boost the efficiency of your sales process. Easily customizable for your business.
Fully Integrated
All product, pricing and other data maintained in Microsoft Dynamics NAV only. No duplicate data entry or maintenance. No additional systems to learn.
Instant and Flexible
Save the precious time with a pluggable ISV solution - add e-commerce to your Dynamics NAV in a matter of few days. Unbeatable flexibility with SaaS-based pricing.