Partnership with Business Solutions Adviser
15.03.2013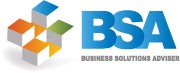 As of February 25th, 2013, Select Solutions enters into partnership with Business Solutions Adviser, a Microsoft Dynamics partner based in Moscow, Russian Federation.
Business Solutions Adviser is the leading provider of Dynamics ERP for Duty Free, with the majority of customers operating in retail and distribution business. The company has a strong track record of implementing Microsoft Dynamics NAV and LS Retail solutions, which is reassured by the Silver ERP Competency from Microsoft.
With this partnership, Business Solutions Adviser expand their expertise and solution portfolio with the readily available E-Commerce B2B/B2C packages from Select Solutions, as well as employ the limitless opportunities to build tailored e-commerce solutions on top of Select Solutions E-Commerce framework.
Why Us
E-Commerce for Efficiency
Ideal for B2B trade in manufacturing, distribution, and wholesale business. Fast and functional no-frills solution to boost the efficiency of your sales process. Easily customizable for your business.
Fully Integrated
All product, pricing and other data maintained in Microsoft Dynamics NAV only. No duplicate data entry or maintenance. No additional systems to learn.
Instant and Flexible
Save the precious time with a pluggable ISV solution - add e-commerce to your Dynamics NAV in a matter of few days. Unbeatable flexibility with SaaS-based pricing.