E-Commerce B2B for Dynamics NAV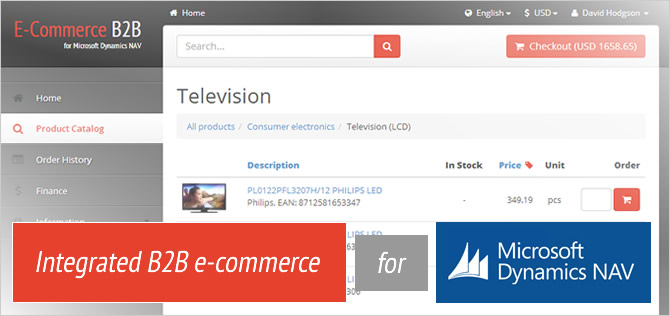 Select Solutions E-Commerce B2B provides your business with an out-of-the-box e‑commerce site that displays your inventory from Dynamics NAV, collects on-line orders, and provides your customers with follow-up information on their orders and financial transactions.
There is no routine maintenance or extra back-end systems, and e-commerce data is always real-time.
---
Business Fit
E-Commerce B2B is a productivity tool for optimizing your supply chain process in terms of efficiency and costs, and is best suited for wholesale, distribution and manufacturing companies. E-Commerce B2B is particularly attractive to small-medium business with the requirement for instant time-to-market, quick ROI, and minimum long-term maintenance.
Implementation
Being a certified Microsoft Dynamics ISV partner Select Solutions is the one stop shop for implementing and maintaining your e‑commerce. While if you prefer, we have plenty of Dynamics NAV expertise and skilled resource to engage with your Dynamics partner to handle specific scenarios and complex business logic.
Infrastructure
E-commerce site is delivered as a cloud service by default, and will work equally great with Dynamics NAV running in your infrastructure, hosted by a partner, in Windows Azure or alike. Hosting the e‑commerce site in your infrastructure is also an option.
More Information