E-Commerce B2B for Dynamics NAV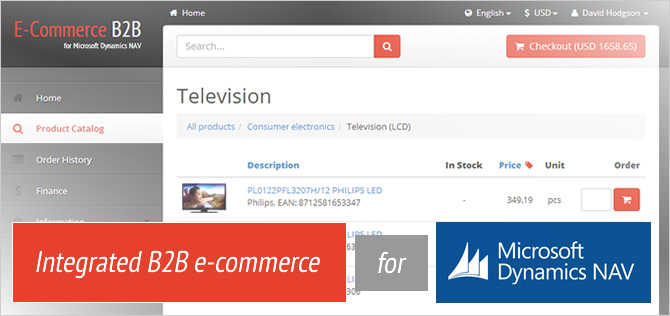 ERP-driven E-Commerce Solution
Select Solutions E-Commerce B2B provides your business with an out of the box e‑commerce storefront that is connected to your Dynamics NAV, displays your current stock online, takes e-commerce orders, and provides your customers with follow-up information on their orders and financial transactions.
Your Dynamics NAV is extended with a Microsoft-certified add-on for e-commerce management, so your back-office users can manage product presentation, onboard customers, and process e-commerce orders within Dynamics NAV.
There are no extra back-end systems as everything in managed from Dynamics NAV, and your storefront is essentially a facade to the stock you maintain while doing everyday operations in Dynamics NAV.
---
Business Fit
While not neglecting the sales-increasing part of doing e-commerce, E-Commerce B2B will serve you best if you are after a productivity tool to streamline your order management. With the rich functionality for B2B scenarios, it is best suited for wholesale, distribution and manufacturing companies, and particularly attractive to small-medium businesses with the requirement for instant time-to-market, quick ROI, and maintenance effort kept to the minimum.
Implementation
Being a certified Microsoft Dynamics partner Select Solutions will happily serve as a one stop shop for implementing and maintaining your NAV-integrated e‑commerce.
While if you prefer, we have plenty of Dynamics NAV expertise and skilled resource to engage with your Dynamics partner to handle specific scenarios and complex business logic.
Infrastructure
Your e-commerce storefront is cloud-hosted, running on a dedicated VPS managed and monitored by Select Solutions, and will work equally great with your Dynamics NAV running on Azure, in your infrastructure, or hosted by a partner. For enterprise or compliance scenarios, your infrastructure can also be used for hosting the storefront.